Autumn Semester
Are you a student with with a strong interest in sustainable agricultural production systems?
Join the programme in Agroecology exclusively taught in English as an exchange student for one semester and obtain 30 ECTS.
Our 's Agricultural Engineering MSc in AGROECOLOGY is based on a transdisciplinary approach of agroecosystems with a focus on agronomical, ecological, environmental, economic and social issues. Emphasis is given to the integration of disciplines focusing on crop-livestock integrated systems that value and preserve biodiversity.
Venue: Rennes, France
Period: From September to January

Requirements:
• Bachelor's degree with a background in agronomy, crop science, animal science, soil science, ecology, economic and social sciences
• B2 level English proficiency

Application deadline: June 15th
How to apply ?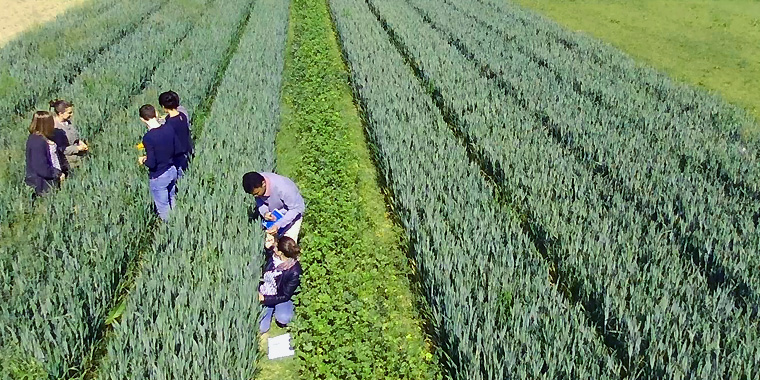 Our programme prepares students for a wide range of mission:
Emphasise positive interactions  within  agroecosystems in order to propose agroecological practices which encourage functional biodiversity, appropriate crop rotations and help the natural regulation of populations and the management of bioagressors
Manage soil fertility and complete biogeochemical cycles by developing synergies between livestock farming and crops
Develop a systemic vision of agroecosystems to support, improve and increase farm sustainability
Evaluate farm sustainability through multicriteria assessment including biodiversity, natural resources and the society
Help farmers evaluate the relevance of their practices and com-pare them with those of other farmers, and encourage them to create possible changes
Reflect and open up to new ideas while considering the goals, needs and interests of the stakeholders
Contribute to the development of transdisciplinary research in agroecology.
Programme Features

Individual and group-based learning
Short projects on experimental sites and a transdisciplinary project on a real farm
Active participation of professionals and scientific partners
All courses in English


Support offered by l'Institut Agro Rennes-Angers

Single Welcome Desk
Free French Language Courses
Housing Support
Compulsory Teaching Units (TU)

| TU | Code | ECTS Credits | |
| --- | --- | --- | --- |
| TU 1 : The challenges of Agroecology | RM2E-1 | 2 | More |
| TU 2 : Global socio-economical analysis | RM2E-2 | 3 | More |
| TU 3 : Theoretical bases of agroecosystem functioning | RM2E-3 | 6 | More |
| TU 4 : Sustainability of agroecological systems | RM2E-4 | 2 | More |
| TU 5 : Agroecosystem Management Levers in Agroecology | RM2E-5 | 6 | More |
| TU 6 : Plant, Soil, Animal interactions | RM2E-6 | 4 | More |
| TU 7 : Statistical, modelling and spatial engineering tools | RM2E-7 | 3 | More |
| TU 8 : Professional Project | RM2E-8 | 2 | More |
| TU 9 : Languages | RM2E-9 | 2 | More |
Teaching Staff
The staff is composed of permanent researchers and teachers from l'Institut Agro Rennes-Angers and a team of experts and professionnals.