Discover our Campuses
Student tradition and an enviable quality of Life

Between land and sea
Two campuses: in Angers and Rennes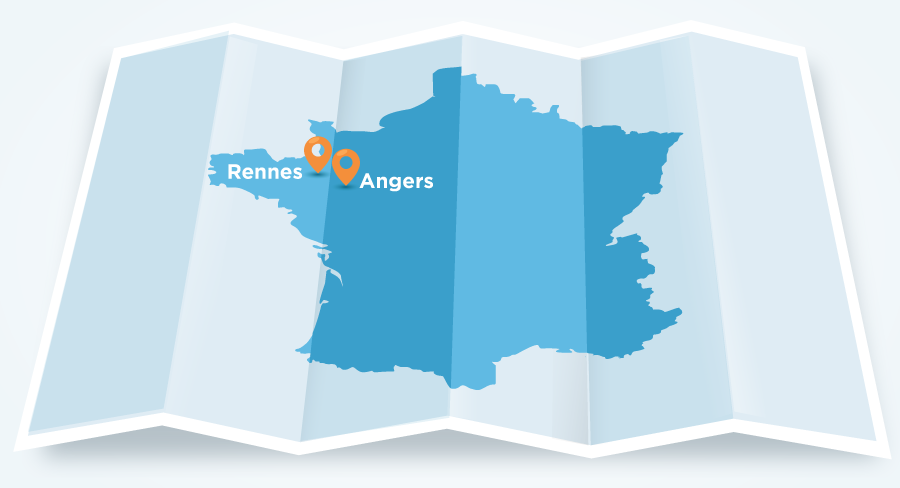 AGROCAMPUS OUEST is based in the heart of a richly endowed territory, between land and sea: Brittany and the Pays de la Loire constitute Europe's leading agricultural and agri-food area. Both campuses aresituated in cities with a firm student tradition and an enviable quality of life, students enjoy a studying and living environment perfectly suited to meet the demands of student life and higher education.
Specialising in horticulture and landscaping, the Angers campus is located in the heart of a region with a long horticultural tradition which has now become one of European's leading horticultural and seed production areas.
It maintains a special relationship with stakeholders in the economic and research sectors as well as with regional authorities within the globally focussed competitive cluster, VEGEPOLYS VALLEY.
Based on the Belle-Beille university campus, AGROCAMPUS OUEST campus is an environmentally-friendly campus located 20 minutes by bus or bike from Angers city centre. 
Students enjoy numerous study resources:
 computer rooms
a digital language laboratory
a teaching and experimental estate (greenhouses, gardens)
sports facilities (gymnasium, body-building room, access to sports pitches)
Based in Rennes since 1896, AGROCAMPUS OUEST campus has a 17 hectare campus in the heart of Rennes Atalante-Champeaux technology park. Hosting major economic and scientific partners (INRAE, Valorial Agri-Foods Competitive Cluster, numerous businesses, etc.), the Rennes campus represents one of the most important French sites for agricultural training, research and development.
Located 10 minutes by bike or bus from the city centre, the environmentally-friendly Rennes campus offers :
a comfortable living environment, thanks to the 270 rooms, allocated by way of priority to new students, and to the campus restaurant
study resources: computer rooms; digital language laboratory; general, specialist and historical library
sports facilities (dojo, gym, tennis court)